Center of Gravity: QMN080
A nineteenth century idea about how to focus an army's efforts against its adversary - essentially finding the target for a knockout blow - is valuable in determining how to focus your own strategy.
(aka: Hard Problems as a Team, Part III)
(This week's report is a 7 minute read)
BLUF: A nineteenth century idea about how to focus an army's efforts against its adversary - essentially finding the target for a knockout blow - is really valuable in determining how to focus a business's efforts in a strategy. Understanding the basis for competition in your market is absolutely key for developing a strategy to tackle hard problems.
Brady here. In 2006 I helped lead operational-level planning for counterinsurgency operations in West Baghdad and the City of Abu Ghraib. Though nearly every week my battalion of 500 ran night raids to kill or capture insurgent leaders in our area, the most effective but seemingly benign activities we conducted every single day, in broad daylight. These consisted of meetings with local political leaders, directing humanitarian aid to community centers and schools, and helping to police public areas to keep crime down. We had already identified the power base for the insurgents, which was the hearts and minds of Iraqis in these neighborhoods, who in the midst of near-civil war were trying to just live their lives and keep their families safe. Whoever won their support would win the war.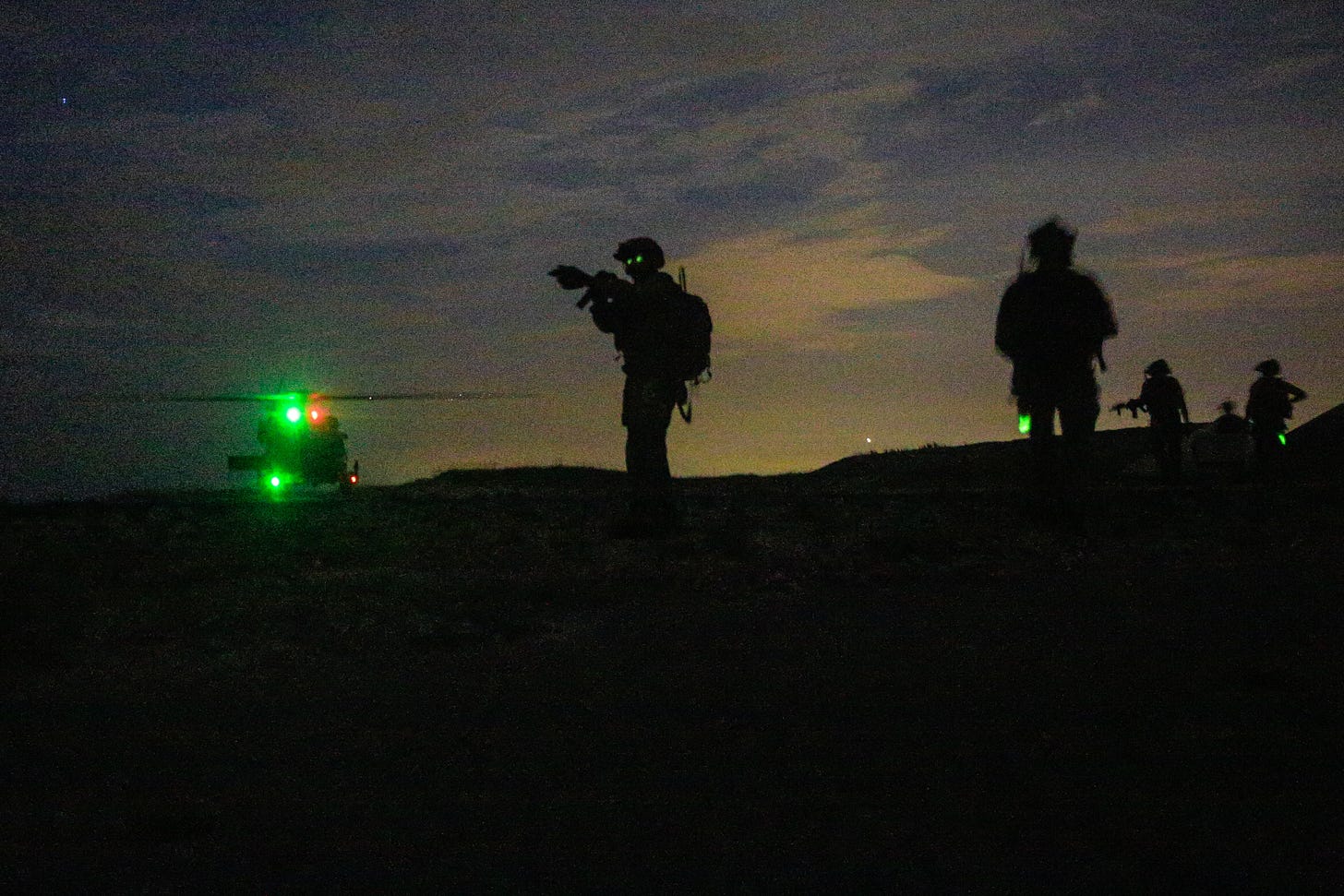 Green Berets assigned to 3rd Special Forces Group (Airborne) prepare an exfiltration on August 15, 2019, near Hurlburt Field, FL. (U.S. Army photo by Spc. Peter Seidler)
So far we've reviewed the pre-requisites for Operational Design, and the fundamentals of framing problems to be solved. One of the most valuable concepts for really considering how to attack or approach a problem is center of gravity. First described in On War in 1832, center of gravity is a concept that's gone into just about all war planning ever since. It's not magic - it's not a concept made for any problem - but it's valuable for determining what you should protect, build upon, and start from in your own organization, and then what you should target in other actors. 
On War's author, Carl von Clausewitz, called center of gravity "The source of power that provides moral or physical strength, freedom of action, or the will to act." His intent was to describe how to focus an army's efforts against its adversary - essentially finding the target for a knockout blow that would destroy an enemy's ability or will to fight. The idea was particularly valuable for Napoleonic warfare - where we started to see nation states getting locked into major battles that decided their fates for decades afterward. 
"In strategy, the longest way round is often the shortest way home."
Center of gravity became a great way with which to frame future warfare. B.H. Liddell Hart used it to describe how to fight following the First World War - saying that leaders should use an indirect approach by attacking the center of gravity while avoiding the enemy's strength. Hitting the enemy head-on when he's prepared for you doesn't work - you need to upset his equilibrium and hit him where he's not expecting it, but with effects that will defeat his center of gravity. This kind of thinking may well explain that while the First World War was characterized by trenches, head-on attacks, massive formations and pulverizing artillery strikes, the Second World War was characterized by fast moving tank battles, maneuver, and coordination with aircraft. But the principle remained - hit to affect your adversary's power base if you want to have any real, lasting effect.
So every week, while we kept those insurgent leaders disrupted and off balance with our raids, we were chipping away at their base, winning over supporters with each hosted election, soccer game and patrol of the crowded market. Our strategy was expanded and intensified across much of Iraq the following year with the Surge- and was actually very successful. Arguably ISIS emerged because they adopted a new center of gravity with new aims.
Great - but what does this mean for our own lives?
As you might expect, Stephen Bungay explains best how the center of gravity applies to business. The center of gravity in business is the basis of competition or the source of competitive advantage. It's the thing that informs all operational decisions for any company that's competing in a market. Identifying that center of gravity - the basis for competition - is a first step in setting direction and will inform most major decisions about the best way to approach customers. The example he uses in The Art of Action is of a domestic boiler company - a business that makes boilers for heating homes. Bungay interviewed a managing director who truly understood his company's center of gravity, and explained it thus:
"Let me tell you how our business works," he said. "Almost all of our domestic business is for replacement of existing boilers. People replace boilers when their existing ones break down. What do you do when your boiler breaks down? You call the installer," he continued, answering his own question. "When he tells you the boiler is too old to repair because he can't get the parts, what do you do?" He paused. "I'll tell you. You do what he suggests. And when you ask him which new boiler to install, he tells you that too. So 90% of all purchasing decisions are made by the installer." He paused to let this sink in. "Our business," he said deliberately, "is about service to the installer. But I am the only person around here who gets that. They all think I'm an old man with a bee in his bonnet." He looked me in the eye. "We are being successful because we offer our installers better service than any of our competitors."
The basis for competition in this man's market is enabling the installer - and the company in his market that gets this right, wins. Experience, and wisdom derived from reflecting upon experience, is what gives insight like this. This kind of understanding is the starting point for great direction - once a leader knows this type of information his market, he can give real, valuable guidance to his organization as he builds out the plan.
Figuring out the basis for competition in your market is key - knowing this can give a leader abilities of foresight and focus that are hard to match. It'll provide the foundation for an effective Commander's Intent - which we'll cover next week. (BJM)
ALSO - I can't recommend Stephen Bungay's Art of Action enough. I've reviewed it again this past week and it's got nearly every major point you can make about how to apply military strategy to business. Do yourself and your company's strategy a favor and read it now. (BJM)
*****
MORE HEAT: Von Clausewitz on War: Six Lessons for the Modern Strategist (7 min) "Strategy is frequently misunderstood and therefore misapplied. More than any other business discipline, it suffers from crippling confusion and over-complication. In fact, the essence of strategy is stunningly simple, and therein lies its power. Let's start with the threshold question. Why do we need a strategy in the first place? Clausewitz gives us the answer. Strategy is the necessary response to the inescapable reality of limited resources. No entity, regardless of size, has unlimited resources. Strategy, therefore, is about making choices on how we will concentrate our limited resources to achieve competitive advantage. All else follows from there." (BJM)
WE'RE STILL THERE, FOLKS. AND THIS IS STILL HAPPENING: Two Special Forces soldiers killed, other US service members injured by shooter in Afghan uniform (5 min) "Staff Sgts. Javier Jaguar Gutierrez, of San Antonio, Texas, and Antonio Rey Rodriguez, of Las Cruces, N.M. both 28, were the Americans killed, the Pentagon said in a statement. Six American and three Afghan troops also were said to have been injured in the attack in Sherzad district in eastern Nangarhar province. The conditions of those injured were not specified. A joint U.S.-Afghan force came under fire after meeting with local leaders in the district capital, Col. Sonny Leggett, a spokesman for U.S. forces in Afghanistan, said in a statement. "Current reports indicate an individual in an Afghan uniform opened fire on the combined U.S. and Afghan force with a machine gun," Leggett said. "The wounded service members are receiving medical treatment at a U.S. facility." (BJM)
THE RISKS OF TECH DEPENDENCE: The U.S. Is Vulnerable to an Iranian Cyberattack. Here's How. (Video) (5 min) U.S. tensions with Iran have escalated after the assassination of Gen. Qassem Soleimani, and experts are worried about retaliatory cyberattacks. Cybersecurity expert John Hultquist and WSJ's Dustin Volz discuss what new tactics hackers have at their disposal and whether the U.S. is prepared to defend itself." (BJM)
Remarks Complete. Nothing Follows.
KS Anthony (KSA) & Brady Moore (BJM)