Hubris, Self Awareness & Reflection: QMN084
We all know pride goeth before a fall - but why? How do we gain clarity even when we're at the top, clouded by success, and clarity is hard to find?
(This week's report is a 7 minute read)
BLUF: We all know pride goeth before a fall - but why? How do we gain clarity even when we're at the top, clouded by success, and clarity is hard to find? Seeking the truth helps, but it's easier said than done. Establishing some practices in honesty are required for keeping ourselves grounded in reality and prepared for the future.
Welcome to The Quartermaster Newsletter. We're 

Brady

 and 

KS

 and this is where we share martial concepts and tools that help you to better interact with and understand our complex world. Brady's got a background as a 

Green Beret

 officer so a lot of what we've got has a special operations slant. 

Check out our history of posts

 where we cover many different types of combat-tested mental models and communication frameworks, and use them to make good, timely decisions under less than optimal conditions. 
And if you like what you see here, kindly let people know:
Brady here. Our culture is full of tales of decline and fall as a result of hubris. From Icarus to Lucifer or Kodak to Blockbuster, I've always wondered if it's really a thing - do giants always fall out of hubris, or do we just notice it more because the giant crashing is such a spectacle? We can all agree that nothing lasts forever, but is decline really always so immediate and dramatic? Is it avoidable - and when it happens is it always the fault of an arrogant leader?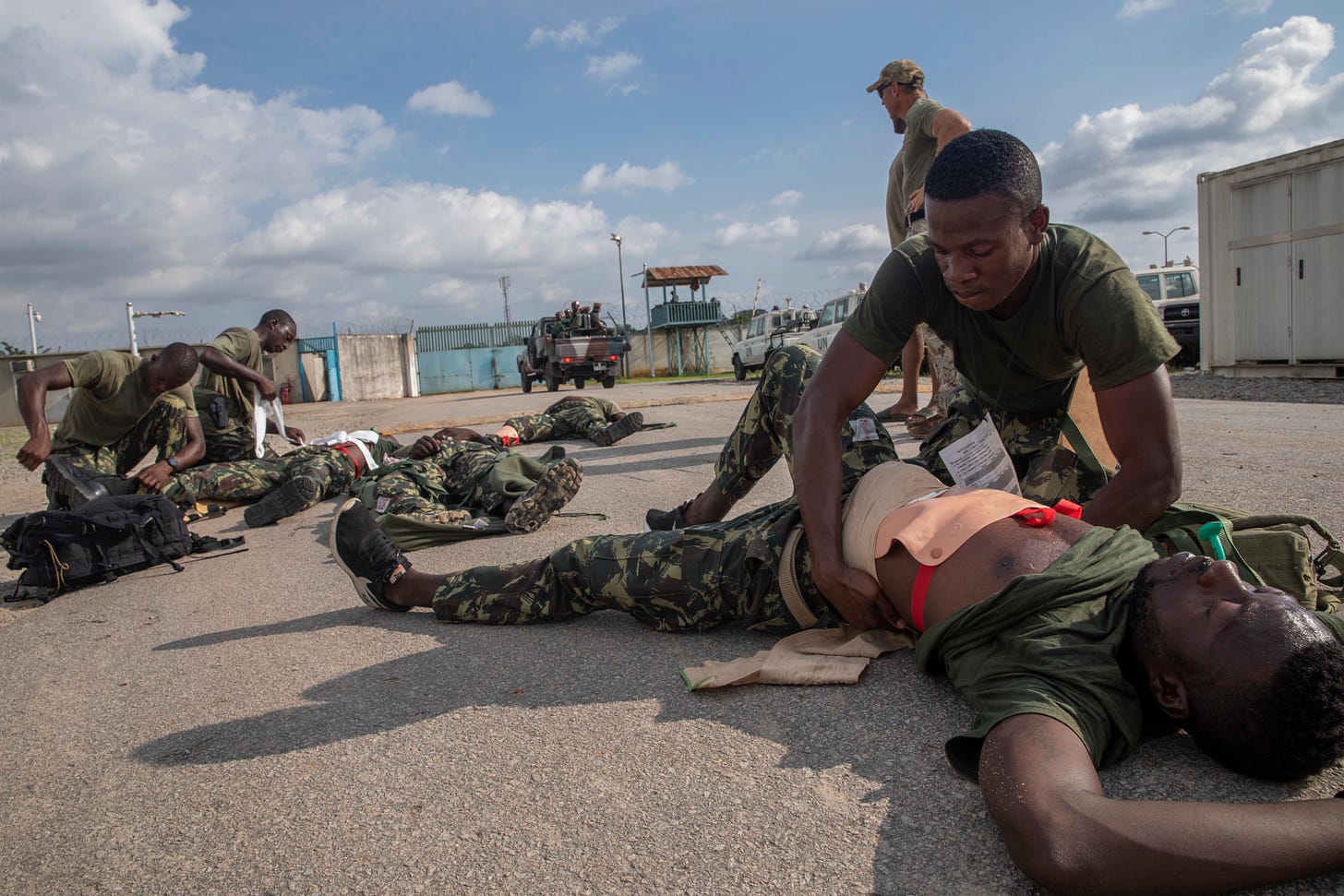 A Green Beret assigned to 3rd Special Forces Group (Airborne) observes Côte d'Ivoire Special Forces Soldiers going through their steps of Tactical Combat Casualty Care during Joint Combined Exchange Training (JCET) in Abidjan, Côte d'Ivoire., November 15, 2019. Photo by Sgt. Andrew Adaire
I think everyone's heard the proverb that "pride goeth before a fall" but I once heard someone wise take it even further - that pride goeth before a fall because it cannot see what goes before it. Indeed, a kind of blindness is what often seems to cause us to overestimate our position or the reasons for our success. We become overconfident and neglect what's necessary. So how do we avoid overconfidence? In talking to military leaders over the years - especially ones with combat experience - they often preached a sense of over-awareness that would help guide them and their organizations through tough times. I've tried to be circumspect about my life and work, but I've found that success comes from adopting good habits and mindsets around self awareness. Here are a few:
Really know your environment 
In an era of disruption, we find that many leaders misunderstand their market - or in military cases their battlefield. You may make the rules for the market you're in today, but your market may change due to circumstances outside your control tomorrow - and without your consent. Knowing your environment includes understanding its boundaries, open areas and obstacles, how those things effect everyone playing in that arena, knowing who everyone in the arena is, what they can do, and what they want to do. It's a lot to take in and it's always changing. Situational awareness is a continuous process of seeing your surroundings, comprehending the patterns and figuring out what's going to happen next. If you're a leader, gather information yourself continuously but it's wise to also assign someone in your organization the role of gathering, processing, and disseminating information so that you and other leaders in your organization can avoid pitfalls and exploit opportunities. 
Seek and build fair assessments
In a historiography class in 1999 I heard a great insight about the cycles history - "The term is 'survival of the fittest,' not 'survival of the strongest'." Years later, when reading Rudyard Kipling's stories about Central and South Asia, I came across something that brought it to mind:
Nations have passed away and left no traces,

And History gives the naked cause of it—

 One single, simple reason in all cases;

They fell because their peoples were not fit.
Understanding what "fit" means is the tough part - What does it take to survive and win in your environment? This comes from the aforementioned situational awareness but it asks us to take awareness further and predict the future. Where is your environment headed and who is driving it there? In most cases, "strength" to me means power and ability, but "fit" means strategic positioning and provision of value. Who needs you, how badly and why?
Seek advice from the bottom
In the mid-2000s, the "360 Degree Leadership Assessment" became popular in the US Army, and in between deployments to Iraq and Afghanistan, we got the opportunity to give our opinion about the performance of our leaders, and got input on our own performance from everyone up and down the chain. Perhaps because the process was still pretty new for most people, I found that people weren't afraid of getting recognized in their advice and actually gave impactful responses. I learned a lot - not just about how I was leading, but how things I did out of positive, even altruistic motives were being perceived negatively. A really good assessment seems rare, though - the real trick is to get honest, often painful feedback on performance and perception. If all the feedback you're getting makes you feel great about yourself, it's probably not all honest. Anonymity helps here, but I've found that you can cultivate honesty in the organization by seeking it and not punishing it. Plain-speaking is one of the things I miss most about working every day with noncommissioned officers, who often made it a sport. (Kipling also captured the triumph of simple common sense in another post-First World War poem.)
Get outside yourself
Simon Sinek has made a fortune on his advice that's common sense among military leaders - first with "Start With Why" and then "Leaders Eat Last". Eating last - meaning not just that you're last in the chow line but that you take care of your organization before you take care of yourself, helps take leaders outside their own wants and needs and see the organization from another perspective. It also lets people know that leaders are doing things for the good of the group - not just themselves, which helps with the cultivation of honesty. Former Green Beret Chris Erickson highlighted the Daily Examen as a practice of continuous self reflection that causes us to get outside of ourselves every day and make an honest assessment of our performance. I find that if during an examen I can bear to ask myself honestly "Why did I do that?" I can start to see patterns in my own behavior - and maybe even root causes - and take steps to address them. (This short scene from True Detective 1 - on inattention and distraction - hit me like a freight train and still does.)
Experiment 
My personal tendency is to set course on a path and never deviate. My mind prefers to fight through difficulties by force as opposed to finding a new path. Endurance in some situations is a real gift, but reliance on it in every case is a mistake. Trying out new methods, and maybe even re-examining goals in light of changing circumstances is sometimes the right thing to do. Learning about Type-2 Decisions really opened my mind about paths and goals and the ability to find options we can reverse or abandon if needed. 
Finally, one thing that'd helped me put things into a good perspective for self-analysis, especially in times of panic or confusion, is the line - again from Kipling but this time from his most popular poem "If",
If you can meet with Triumph and Disaster

And treat those two impostors just the same; 
Nothing in this life is really as bad as it seems, or as good as it seems. There are always opportunities to fall and always paths to a better outcome. Keeping calm and finding where those are is the key. Everything comes to pass, and we have chances to improve our odds for the future. Here's to the hope you gain clarity and and find your right path. (BJM)
*****
AN IMAGE OF FUTURE WAR: DARPA Tiles Together a Vision of Mosaic Warfare (6 min) ""When you attack in parallel across a wide front and you have distributed your sense-decide-and-act systems across a wide number of platforms, you can mass your firepower without having to mass your forces," said Burns, who is credited with getting talk about the Mosaic Warfare concept going in Department of Defense circles. The DARPA hard problem is that today's weapon systems are not built to function this way, Burns said. "They are more like pieces of a puzzle than tiles for a mosaic. They are exquisitely engineered to fit into a certain part of the picture and one part only. You can't pull it out and put in a different puzzle piece. It won't fit," he said." (BJM)
MISTAKES, CONTINUED: America's Ozymandias (4 min) "The gigantic presidential heads in the field in Virginia are a stark reminder that all the presidents and all the president's men and women are Ozymandias and so are we. Our nation, like the abandoned presidents' busts, is broken, battered and weather beaten. Why? Because we did not preserve what is best in a beautiful memorial park. We turned our nation and our political system into a tourist attraction with tickets for sale, and when the amusement park went bust we abandoned it and moved on to a new entertainment, putting the past out to pasture." (BJM)
THOUGHTFUL ADOPTION, TRIED: No Cell Signal, No Wi-Fi, No Problem. Growing Up Inside America's 'Quiet Zone' (5 min) "At a time when nearly 60 percent of American teens say they have been bullied or harassed online, and studies have found links between social media use and teen mental health problems, the digital limitations around Green Bank have created a unique kind of modern childhood, providing a glimpse into what it means to grow up without the constant buzz of texting and social media. The quiet, too, has given young people here a greater appreciation for fostering in-real-life connections, the great outdoors and personal privacy. Even teenagers who are able to use Wi-Fi at home — in the quiet zone but outside its 10-mile core — said they spend less time online than most people their ages, and those who have moved to the quiet zone said they have discovered a newfound sense of adventure." (BJM)
Remarks Complete. Nothing Follows.
KS Anthony (KSA) & Brady Moore (BJM)