Maxims for Survival: QMN082
Mental preparation and self-checks can help focus the mind on surviving the worst.
(This week's report is a 6 minute read)
BLUF: Sometimes we find ourselves in a bad situation and don't have modern resources like the digital tools and on-demand information we've become accustomed to. In this case you'll need to rely on your intelligence and experience - and hopefully your preparation. Aside from material preparation, which anyone can do with the right guidelines, mental preparation and self-checks can really help focus the mind on surviving the worst. We've got a few principles here that illustrate those self-checks - think about how to remember and apply them when you'll need them the most.
Brady here. From escaping a large-scale catastrophe like an urban terrorist attack, to staying alive while stranded in a remote area, throughout history humans have found themselves surviving with little more than what was inside their pockets and between their ears for days, even weeks at a time. As Chris Papasadero and I put together a post for Noah Brier & Colin Nagy's excellent daily Why Is This Interesting? newsletter I recalled that there are a number of maxims that help guide us through survival situations of all kinds. The positive habit of self-talk can be credited with getting people through a lot of tough times, and so I'll share with you some of the best phrases I've found that help focus the mind when it's one of the only tools you have available.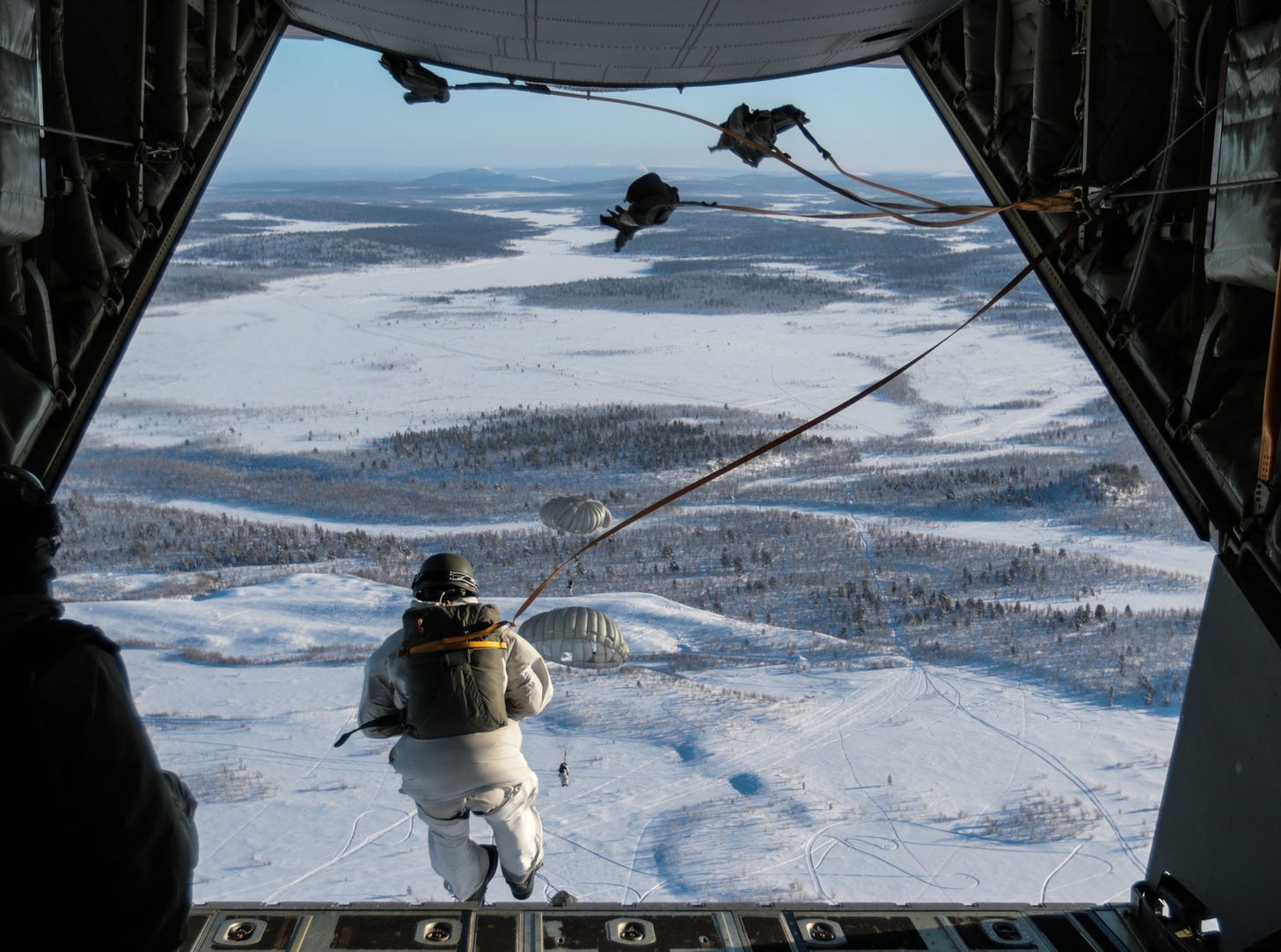 Green Berets assigned to the 10th Special Forces Group (Airborne) conduct static line airborne operations near Kiruna, Sweden, on February 24, 2017. Photo by Staff Sgt. Matt Britton.
Two is one, and one is none.
Things break - so redundancies can often be the factor that determines success or failure, and in survival situations, life and death. In most Green Beret plans you'll find that communications - that requirement for reporting that so often fails right off the bat - is handled in terms of Primary, Alternate, Contingency and Emergency (PACE). This means that every plan has four stated ways of communicating with headquarters - when the Primary means fails the sender will revert to the Alternate, and headquarters will be sure to check for the change. This also means you need to carry four distinct ways of communicating along with you - and therein lies the rub. But in this case the medium is also the message - of someone is reaching you via their stated Emergency means, something must've gone pretty bad. PACE can be used to ensure you've exhausted all possible means of getting something - anything - done, and preparing for the worst. "Two is one, and one is none" also happens to be concept popular among technology people too, and it often comes up on podcasts about their work.
A knifeless man is lifeless man.
In survival situations, there are a few tools it's really hard to do without. As the Faroese proverb implies, a blade is at the top of that list. This is less a matter of protection and more a matter of utility - the knife is a tool that makes other tools. The pocket knife isn't as common as it used to be in certain settings - partially due to TSA restrictions and likely partially to hoplophobia. But you'll find that professionals who fix and open things all day, every day rarely work without one out of arm's reach. If there's any way to realistically and safely secure one in advance of an emergency, you'll find yourself glad you did.
All stress is self-induced.
I learned this most zen of all the maxims while struggling day in and day out on reflexive fire ranges. Even with a team sergeant that held a penchant for training on the Beretta M9, a pistol that requires mastery of all the fundamentals to get right, ODAs test the results of training with a "stress shoot". Individuals need to prove their training while being timed, with movement and with distractions, so that you can be sure that even in the midst of all the difficulties of combat, you'll retain the ability to shoot effectively. After performing poorly on a stress shoot, my team sergeant let me know that excessive worry will take your mind off the task, and will let the pressure take control. We create stress for ourselves often subconsciously as a motivator, but it's easy to lose control and let stress control you. Staying aware of this is often the first step to remaining cool-headed and steady.
What am I doing that I shouldn't be doing? What am I not doing that I should be doing?
In Cormac McCarthy's 2005 book No Country for Old Men, the protagonist Llewellyn Moss asks himself these questions as he tries to evade the seemingly superhuman villain Anton Chigurh, all while running with a suitcase full of cash. In the story, Moss is a veteran of the Vietnam conflict, and the reader is led to believe that at points he's following some of his training from this part of his life. Talking to Vietnam veterans myself over the years, I've heard them say that this is a great check for remaining self-aware in tough situations. Self-awareness is a learned skill - it's often not easy or natural to try to mentally step outside oneself and critique actions and performance. But to find mistakes, bad decisions, missed opportunities and misdirection, one often needs to take an objective view and course correct.
Keep it simple, stupid.
Some people often overthink things. I am one of those people. Despite my inclinations, I've found that often the best solutions are also the simplest. While Occam's Razor refers to explanations, a plan with fewer moving pieces usually has less points for friction or failure, often requires less coordination to carry out among many actors, is easier to remember, to explain, to execute, and to pivot from. The tough part is remembering this when nerves, curiosity, or enthusiasm lead me to create plans well outside my range of the knowable. The best bet is to create a simple plan that can be clearly communicated and quickly modified to suit changes in events.
These maxims seem wise, but Rob Shaul explains it best when he reminds us that knowing what to do is easy - it's doing it that's hard. I don't find myself in survival situations too often now, so I have the luxury of talking things over with someone in most cases first to ensure I'm not missing something, and second to help motivate myself to do what I know needs to be done. Getting the right things done - like preparing, planning, and making good decisions during execution - are the purpose of the maxims above. If discussing it with someone else when you have that luxury helps do the job right, do it. (BJM)
***** 
HARD TRUTH: How You Do Anything Is How You Do Everything (6 min) "Sometimes, on the road to where we are going or where we want to be, we have to do things that we'd rather not do. Often when we are just starting out, our first jobs "introduce us to the broom," as Andrew Carnegie famously put it. There's nothing shameful about sweeping. It's just another opportunity to excel — and to learn.But we are always so busy thinking about the future, we don't take enough pride in the tasks we are given right now. Too often we phone it in, cash our check, and dream of some higher station in life. Or we think, This is just a job, it isn't who I am, it doesn't matter. This is foolishness." (BJM)
EVOLVING FUTURE WAR: This Is The Air Force's Plan To Take The Fight To China (5 min) "How do we move small packages around pretty quickly to complicate things for our adversary?" Brown, who has been in his current position since the summer of 2018, rhetorically asked, according to Defense One. "[T](#)hen also how to operate in a contested environment, because I can't guarantee that my [communications](#) will be up the entire time." The ideas Brown mentioned aren't actually new. They slowly have been developing for years in Air Force, Army and Marine Corps intellectual circles. Brown said he's working to "operationalize" a classified Pacific Air Forces strategy that his predecessor Gen. Terrence O'Shaughnessy, now the commander of U.S. Northern Command, originally championed. (BJM)
STYLE IS LIFE: The CIA's Style Guide Is Surprisingly Good (2 min) "Despite being intended to guide both creators and analyzers of government intelligence, the document helps us plebeian writers, too. Even Strunk and White, the godfathers of writing style, lent their expertise for it. The guide explains general grammar and punctuation rules (finally addressing the ubiquitous who vs. whom question). But it also includes general tips and preferences." (BJM)
Remarks Complete. Nothing Follows.
KS Anthony (KSA) & Brady Moore (BJM)