What Crosstraining Taught Me: QMN026
Martial Mental Models: The Quartermaster, Thursday, 30 May
(Today's report is a 5 minute read)
BLUF: Sharing function-specific training through practical application across a cross-functional group is critical to the success of Green Beret teams. Aside from real practical skills, the knowledge gained about the complex and intensive nature of medical, engineering, weapons and communications tasks gave me an understanding of the time, effort and skill required to do something right. Any cross-functional team can do the same with some forethought and initiative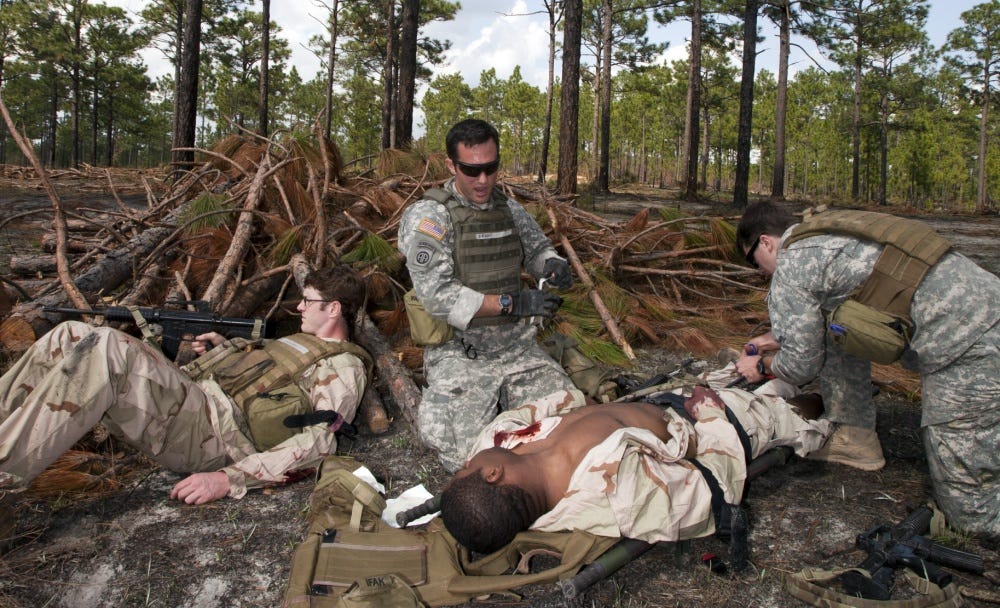 Special Forces Medical Sergeant students at Fort Bragg participate in a field-training exercise focused on performing medical care in a combat zone. Photo by Staff Sgt. Russell Klika on DVIDS.
Brady here. There I was, at the edge of the Hindu Kush mountains, having an IV needle pushed into my jugular vein by a medically unqualified Green Beret. As I lay on my back staring up at the sky the team crowded around, learning from the Senior Medical Sergeant that in extreme situations a casualty could be rehydrated, his blood pressure maintained, and have drugs delivered intravenously via that big vein in your neck that bulges when you get upset. I hoped I hadn't made a mistake by volunteering as the guinea pig. Earlier that day I'd helped make homemade explosives and set up a radio. It was a day for team crosstraining - one of the more humbling times of being a Green Beret.
Crosstraining - or the sharing of function-specific skills through team-internal instruction and practical application across a cross-functional team - is critical to the success of Green Beret ODAs. Within its 12 members the team has every skill needed to raise a fully capable indigenous battalion, but is usually isolated from American service and material support, and thus needs to be self sufficient in nearly every situation. Because the team is so limited on skilled labor each team member trains the others on the basics of his specialty as well as skills needed to support him in his role. 
The best example is a medical one. Each Green Beret Medical Sergeant is extremely capable and has a functional ability that comes close to a Physician's Assistant. He can provide emergency, routine, and long-term care, and though primarily trained in trauma medicine, he's also got a working knowledge of dentistry, veterinary care, public sanitation, water quality and optometry. Each team has a Senior and Junior medical sergeant, but when things get bad on a battlefield, that's never enough- and that's where crosstraining pays off. An ODA that's fully crosstrained will be able to have any team member assist with all the trauma care duties - which often include stopping bleeding from wounds, maintaining an airway or blood pressure, relieving air pressure in a chest cavity, or administering a chest tube. When the team or their indigenous troops have casualties under fire, having many sets of hands to help accomplish all these lifesaving tasks can mean the difference between life and death for many people. So medical sergeants take every opportunity before the shooting starts to make sure team members know how to execute these tasks and why. Just being a member of an ODA I got to learn how to either complete these tasks or assist with them - which even included training on live tissue. But the same went for every other function - in the spare time on the team I learned how to set up radios, how to use weapons from all over the world, and how to build a structure or destroy one with explosives.
In a larger sense I learned a lot more than basic functional skills. I learned that other team members jobs were hard - that it took years of training and qualification, plus field experience, to get good at many of them. Medical sergeants spend a lot of time maintaining certifications, and trauma medicine is only one of many things they focus on. Engineer sergeants handle and even create explosives, but also often manage contracted labor to build shelters and figure out ways to get electricity in a very isolated area. Maintaining communications is critical to a successful operation, so when primary means fail (and they fail more than you'd think) your communications sergeant has to be ready to connect the team to headquarters through other, often crude or seemingly outdated, means. Having this knowledge of the complexity and intensive nature of these areas gives you an understanding of the time and effort required to do something right. It allows you to plan for reality and explains the gap between what's in the instructions and how it's done in the field. As a team leader I had to make a lot of decisions around planning and execution requirements - all this training gave me a real sense of what was needed and what was possible.
And I also learned what to expect when things go wrong - even when you've been crosstrained it can be hard to bring up that secondary skill in an emergency. Crosstrained skills have to be continually refreshed and reviewed to make sure each team member is an asset and not a liability in a combat situation.
Finally, the current value for me in all this knowledge is that many teams across the professional world today are cross-functional. Technical people work with nontechnical people, marketing can work with operations, sales can work with delivery. If you want your team to be better prepared for disruptions or spikes in demand, have them share some basic skills so that you can be flexible and perform better under pressure. Have team members identify where they could use help and make them responsible for building a support capacity for their role across all the members of the team. That individual will end up being better at their job through having to teach his skills, and the others will become more aware of how the whole organization should work together.
But please leave jugular IVs to medical professionals. (BJM)
FORGING AHEAD: This Crafty Robot Can Write In Languages It's Never Seen Before (5 min) "Researchers at Brown University just got a robot to do something as linguistically improbable as it is beautiful: After training to hand-write Japanese characters, the robot then turned around and started to copy words in a slew of other languages it'd never written before, including Hindi, Greek, and English, just by looking at examples of that handwriting. Not only that, it could do English in print and cursive. Oh, and then it copied a drawing of the Mona Lisa on its own for good measure." I see limitless potential for forgery if these robots could be manufactured with super-tight tolerances for accuracy. (KSA)
DOOMED TO REPEAT?: Americans' Loss Of Interest In the Civil War Is Part Of A Disturbing Trend (4 min) "The danger here is not just that Civil War battlefields will eventually lie fallow for lack of visitors, but that we will unlearn the painful lessons of our past. To some extent, we've already started down that path."
"Another recent NAS report, for example, examined the re-emergence of segregation on college campuses—what the authors call "neo-segregation." In a survey of 173 schools, including small private colleges as well as major universities like the Massachusetts Institute of Technology and Yale University, the study found"42 percent offer segregated residences, 46 percent offer segregated orientation programs, and 72 percent host segregated graduation ceremonies."
"These segregated graduation ceremonies are not mandatory, of course, and are offered in addition to regular graduation ceremonies. But the fact that they have become so prevalent on college campuses should disturb anyone familiar with the history of segregation in America." (BJM)
THE JUNIOR EXEC BY CPP: Management Debt
Debt is simply making a decision about how to pay for something: now or later. Smart use of debt can be beneficial - and abuse of debt can be bad.
Like financial debt, management debt is incurred when you make an expedient, short-term management decision with an expensive, long-term consequence. More importantly, if you incur the management debt without accounting for it, then you will eventually go management bankrupt.
Over the next few newsletters, I'll address a few different examples of management debt - but the key concept now is to imagine the effects on tomorrow of an easy-to-make decision today.
Remarks Complete. Nothing Follows.
KS Anthony (KSA), Chris Papasadero (CPP) & Brady Moore (BJM)