Rehearsals are the key to execution: QMN029
Martial Mental Models: The Quartermaster, Tuesday, 4 June
(Today's report is a 5 minute read)
BLUF: Green Berets link planning to execution by conducting rehearsals - defined as an exercise where the organization practices expected actions in order to improve performance during execution. It allows the team to better learn the plan, make changes based on insight, and provides leaders with assurance that the intent is understood. High functioning teams don't skip this critical step.
Brady here. After days of isolated planning, and then briefing the plan to higher headquarters and receiving approval to launch, you'd think that my Special Forces ODA would be relaxing before the long, high intensity mission began. Instead they were clearing a spot in the dirt for a 10x10 foot square. They were stacking up mounds of dirt and stringing yarn across the square to represent what they were seeing on a map of their objective. And once the terrain model was finished, they gathered around and spent over an hour walking through every phase of the operation with each team member explaining what he was going to do at each point. And then they did it all over again. Afterward they reviewed parts that needed to be changed in the plan. And then they rested before departing on the operation.
Business leaders often say that where they fail in their efforts to create change in companies isn't in planning or analysis, but in execution. In their book Execution: The Discipline of Getting Things Done, Larry Bossidy and Ram Charan explain that many leaders know what to do, but over time they can't seem to translate their intentions into the results they seek. This isn't surprising - planning and analysis are usually tasks that happen at corporate headquarters among leaders and their staffs - and the change usually has to occur wherever the company does business- it could be anywhere around the world. Even more, those plans need to be carried out by those who didn't make those initial plans. It's an age old conundrum that's probably been around as long as the planners and the executors have been 2 different groups of people. How is this overcome?
Green Berets link planning and execution by conducting rehearsals. A rehearsal is defined as an exercise where the organization practices its actions in order to improve its performance during execution. A good rehearsal accomplishes some critical things on a few different levels:
The leader needs to know if each team member fully understands what he must do, and why. A rehearsal gives the leader an understanding of how well he communicated his intent for the operation, and how well it was received. If it becomes apparent that the intent has been misconstrued he can address it on the spot or formally revise the plan. 

A rehearsal gives the people on the ground who will carry out the operation an ability to visualize and absorb the action about to take place in a much more engaging and effective way. Prior to a rehearsal these individuals likely have only read about their task and what's expected of them. A rehearsal can enable visual, verbal and even tactile learning.

A rehearsal often surfaces needs that weren't anticipated when the plan was written. Those carrying out the plan are usually the ones who find these gaps and can immediately reconcile them with leaders and revise the plan to be more effective. If a rehearsal is done in time, resources can be repositioned and logistics reworked.
Good rehearsals usually conclude with a backbrief to the commander - explaining what each member on the ground is doing and identify anything needed to execute appropriately.
It's also important to note that the more realistic the rehearsal, the better the understanding gained. Full dress rehearsals that replicate battlefield conditions are the most effective, but aren't always possible with constraints on time and resources. A good explanation of this can be found in Field Manual 6-0: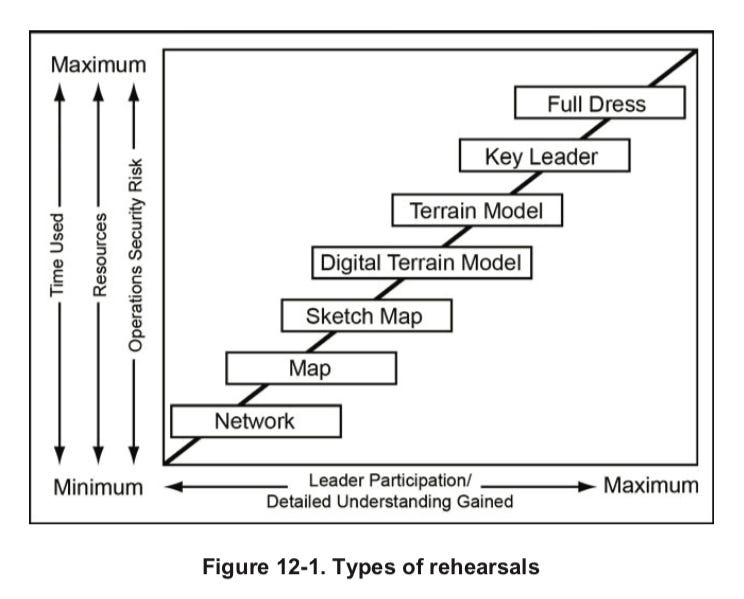 With extreme time constraints, even a rehearsal of key individuals over a map is better than none at all. But for best results, actually simulating the event as realistically as possible is preferred. One example of what appeared to be a very realistic rehearsal was captured in The Atlantic a few years ago - and we all know how successful that operations was.
Many leaders - both those trained to conduct good rehearsals and those who aren't - don't understand or appreciate their effectiveness and cut them out of planning considerations as superfluous. Their performance in execution is bound to suffer eventually- because humans simply need repetition and often immersion to learn something effectively and relatively quickly. Great leaders don't execute until they've rehearsed and backbriefed - ensuring everyone knows and is prepared to carry out the plan. (BJM)
LEAPS IN VISUALIZATION: NVIDIA's New AI Turns Crappy Sketches Into Photorealistic Masterworks (3 min) "The best description of how a GAN works we could find was provided by skymind.ai: "One neural network, called the generator, generates new data instances, while the other, the discriminator, evaluates them for authenticity; i.e. the discriminator decides whether each instance of data that it reviews belongs to the actual training dataset or not." In the case of GauGAN, it would seem that NVIDIA's GAN learned by creating images that were compared to real images by a discriminator network. As such, GauGAN "knows" what a field or forest would look like in whatever certain shape you provide. You make the sketch, tell GauGAN where everything should go, and then the program fills in all the details." (KSA)
THE JUNIOR EXEC BY CPP: Institutional Capacity
Last week BJM talked about the NCO as an organizational tool for institutional knowledge, training, and execution. They are, in effect, the military's middle management, considered 'the backbone of the Army'.  
I think about the manager and NCOs I've liked throughout my career, and there's a consistent theme: good managers don't just solve problems, but they break down why it was a problem, how to fix it, and then why that fix works. They do this with the expectation you to be able to train and teach others. 
It's called institutional capacity.
Remarks Complete. Nothing Follows.
KS Anthony (KSA), Chris Papasadero (CPP) & Brady Moore (BJM)