Lead Your Teams to Solve Hard Problems, Part I: QMN078
Martial Mental Models, The Quartermaster Newsletter, Monday, 27 January
(This week's report is a 7 minute read)
BLUF: The Operational Design methodology can help your team solve hard problems, but first we need to look at a foundational concept around what leaders do to frame and communicate solutions. Visualize-Describe-Direct makes a leader define end states, clearly communicate what needs to happen to reach them, and manage the operations that execute on the vision. Once we know how a leader leads a group to accomplish goals, then we can begin to understand what's needed define problems in the first place.
Brady here. Since the 1970s, the US military has been working on a concept called Operational Design, a methodology that helps strategists and senior leaders frame situations for detailed planning and successful execution. Its aim is often seen as a method for defining hard problems so that they can be solved by a larger organization in a military context. The concept received a lot of attention and development around the timeframe of the Iraq Surge (2007-2009) and then-General James Mattis has been credited as one of its most recent leaders and champions. Operational Design is a key concept because it's a way to lead diverse team to tackle difficult problems - even ones nobody can recall having encountered before. We'd like to break it down for our readers, but first we'll to start with a basic leadership foundation to set the stage for some abstract concepts to come. This week we'll look at the leader's role in command - the context within which hard problems present themselves - often known colloquially as Visualize-Describe-Direct.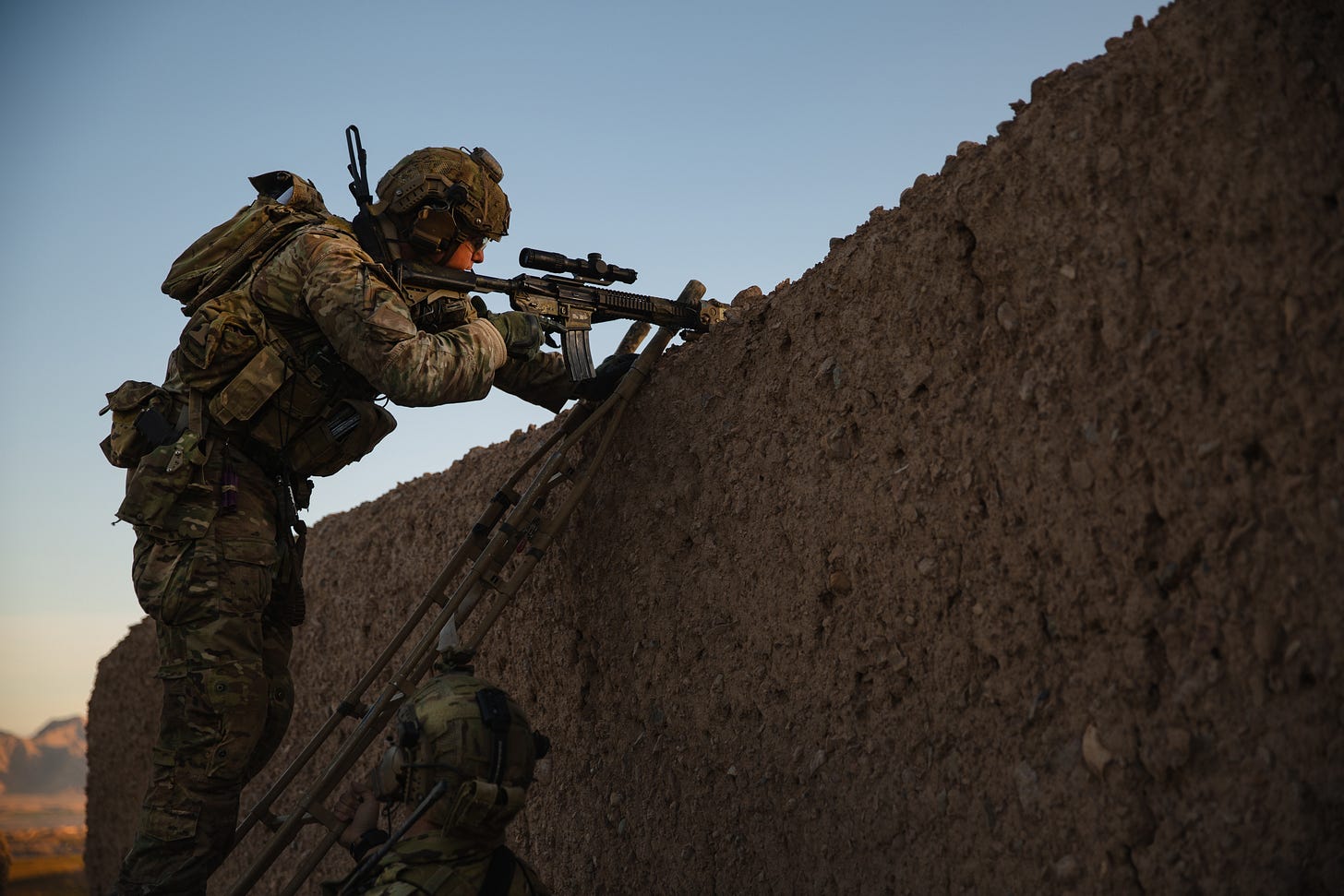 A U.S. special operations forces member conducts combat operations in support of Operation Resolute Support (RS) in Southeast Afghanistan, March 2019. Photo by Spc. Jonathan Bryson, 75th Ranger Regiment.
There's a lot to accomplish if you want to take the beginnings of an idea in a leader's head and get the larger organization to make it a reality. The way the US military sees it, commanders - in this case leaders who direct operations - have six different responsibilities across planning and execution in order to realize concepts. Each task builds upon the previous one, and starts with a certain level of expertise and practical experience in the commander. I'll list each one of these, and then we'll see how they fit together, and how it sets the stage for Operational Design. 
Understand - A leader needs to be able to understand the situation on multiple levels. In the aforementioned Surge this was often approached by looking at Political, Military, Economic, Social, Infrastructure, Information, Physical Environment, and Time (PMESII-PT) and Areas, Structures, Capabilities, Organizations, People, and Events (ASCOPE), which represent both broad and locality-dependent categories that apply for nearly every modern military operational environment. But because not every hard problem is a modern military operational one, there are other approaches to understanding situations - such as RAFT (Relationships, Actors, Functions and Tensions) as explained by Dylan Goff with me on the Ars Ductus blog a few years ago. All of these templates for understanding a problem can yield a very complex set of factors, so good understanding is going to be based upon experience - in order to know which factors are more important or pressing than others. 
Visualize - The next thing a leader must do is take his understanding of the current state and then visualize the state he wants to achieve - also known as the end state. Often the best way is to divide up a visualization between understandings of one's own organization, outside influencers (in a military context this is the adversary, in a business context it's generally both the competition and customers), and the environment itself. Groups of people can be visualized in terms of intent, capabilities and limitations, and everything can often be put into some sort of a framework or pattern that helps explain the bigger picture of what's going on. Often the Military Decision Making Process (MDMP) helps a leader better visualize the end state - and the result is often a solid Commander's Intent. 
Describe - A leader must first describe what needs to happen to himself, and then to the people he leads. This is going to start with Commander's Intent - that key to "unity of effort, autonomy of action" - but also in providing guidance for continued planning. The truth is that nobody is ever going to go into a framing or planning process with complete information, so a leader's experience will fill in the gaps until better or more complete information is available (which often comes during execution). A leader defines the information he still needs by issuing Commander's Critical Information Requirements (CCIR) - basically letting everyone know what still needs to be understood and both directing them to search for that information and to deliver it as soon as possible, because it's discovery could seriously impact the direction or outcome of operations. 
Direct - Direction in a military context generally comes in the form of mission orders - which are great tools for anyone to communicate how and why something is to take place. The 5-Paragraph Operations Order is the format most commonly used, but the level of detail and specificity in direction can vary by commander and organization - and is often a factor of trust. If the leader is confident that the larger organization has a good understanding of both the situation and the tasks required to achieve the intent, the leader can leave a lot of the details to the led to figure out. If the leader doesn't have this level of comfort, he can be a lot more prescriptive with how to carry out the operation. 
Lead - This stage carries the entire process into execution, and is where leaders need to be focused on the Only Three Things Leaders Must Do - which are very much concerned with human factors. Leaders need to influence their organization to carry out the things they've planned and directed - keeping them focused on the "why" that they've communicated in their Commander's Intent and keeping the whole ship on course until they reach the goal. If your organizations trained and even moderately experienced, most leaders can keep their direction to high level instructions or corrections and let the team do what it does best - adapt and overcome. 
Assess - Finally, the leader must continually determine if the operation is headed in the right direction. By assessing throughout planning an execution, the leader can both seize unforeseen opportunities that present themselves during events and mitigate unexpected problems as they arise. There multiple tools by which a leader can assess the effectiveness of the approach, from examining backbriefs and rehearsals, to reviewing debriefs and after-action reviews, and the reaching of predefined milestones.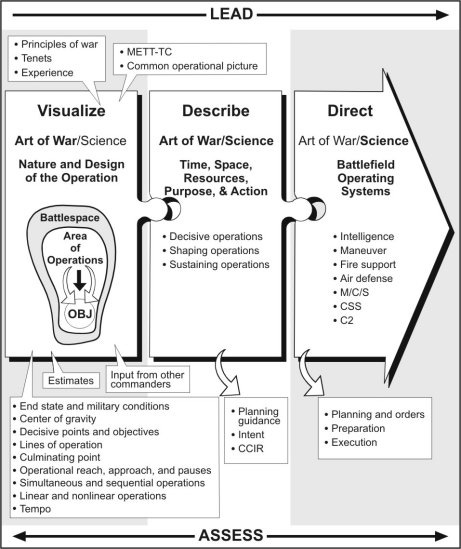 Visualize-Describe-Direct from US Army Field Manual 3-0 (Operations)
This 6-step process comes together to encompass every leader activity from beginning to end - and explaining how important the communication of clear, simple concepts is to successful operations. As we've mentioned before - it's really important to make plans and orders as simple as possible. Given the complex nature of operational environments, it seems that a perennial meta-task for leaders today is the simplification of complex problems, so that issues can be quickly and thoroughly addressed by a large group of people. 
In the following weeks we'll examine Operational Design and Art - both how it's approached and how it's gotten to where it is today. (BJM)
*****
END OF AN ERA: Clayton Christensen, author of "The Innovator's Dilemma," has passed away at age 67 (3 min) "Over the ensuing years, Christensen would write 10 books, though none were as ubiquitous as "The Innovator's Dilemma," which was timed perfectly in retrospect. It put forth a theory why people buy products that are often cheaper and easier to use than their more sophisticated and more expensive predecessors, and resonated widely as one incumbent after another — Xerox, U.S. Steel, Digital Equipment Corp. — stumbled while other companies began rising in their dust: think Amazon, Google, Apple." (BJM)
OBSOLESCENCE AS A SERVICE: Sonos Makes It Clear: You No Longer Own The Things You Buy (5 min) "The latest example comes courtesy of Sonos, which this week informed customers in an email that it would no longer be supporting certain speaker systems. In the email, the company says that certain "legacy" systems will stop receiving security and software updates starting in May. "Legacy products were introduced between 2005 and 2011 and, given the age of the technology, do not have enough memory or processing power to sustain future innovation," the company's email claims. Users that have shelled out hundreds or thousands of dollars for smart speakers that still work didn't take the news particularly well. In a blog post, Sonos says owners of these legacy systems have two options: they can simply keep using the products, understanding they won't receive new features, bug fixes, or software and security updates. Or users can trade in the older gear while nabbing a 30 percent discount on the purchase of a new Sonos system." (BJM)
DON'T BE OLD: Yes, Ageism Is a Problem in Tech. But Vanity Is a Bigger One (4 min) "Tech's obsession with physical appearance--and here, some of the blame falls to the press, which runs those cover photos and dutifully promotes those founder-approved fad diets, as well as clickbait lists like the Sexiest Startup CEOs Alive--isn't just a superficial pursuit of the newly (or soon-to-be, or wannabe) wealthy. It's a culture-wide weakness easily exploited for profit. Here's how Will Pavia described his first impressions of WeWork and its co-founder, Adam Neumann, in London's The Times Magazine in July 2018: "If there was a Valhalla for millennials, a grand hall for macrobiotic feasting and merriment, I suppose it would look like this. Neumann would be Odin, striding around with his retinue. He does look rather like a Viking. His fair maiden, Rebekah--the mother of his five children and a cousin of Gwyneth Paltrow--is tall and elfin, and works in an airy glass cubicle next to Neumann's. Miguel McKelvey, the co-founder of WeWork, looks a Norse god, too. He's 6ft 8in, bearded and muscular."" (BJM)
Remarks Complete. Nothing Follows.
KS Anthony (KSA) & Brady Moore (BJM)